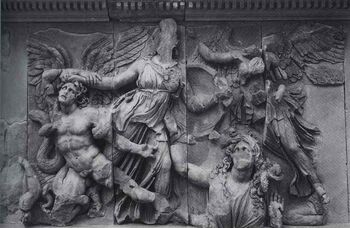 Alkyoneus (Αλκυονευς) was one of the three kings of the Gigantes, son of Gaia and Tartaros and was the eldest of the Thrakian Gigantes. Alkyoneus was born to oppose Hades, God of the Underworld. Alkyoneus was the only Gigante who could be killed by a god or human alone, but he couldn't be killed in his homeland of Pallene.
Parents
Gaia (Mother) & Tartaros (Father)
Gigantomachia
In the Giant War Herakles encountered the giant. Heracles shot him with arrows and then with information from Athena about Alkyoneus's immortality, Herakles dragged the wounded Giant over the county's border to die.
Another version tells that Herakles came across Alkyoneus while he was unconscious or asleep, dragged the Giant over the border first and then shot Alkyoneus to death.
Gallery