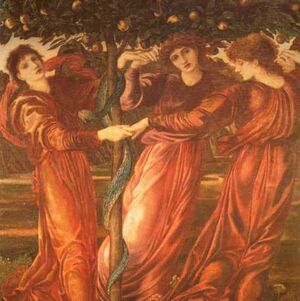 The Hespirides were the nymphs who guarded the Tree of the Golden Apples. Their names were Aegle, Erttheia and Hesperia.
Parents
Atlas (father) & Hesperis (mother)

Erebos (father) & Nyx (mother) (Hesiod's Theogony)
Siblings
Hyas, Pleiades, Hyades, Calypso or Aether, Hemera, Hypnos, Thanatos, Moros, Momus, Moirai, Oizys, Geras, Eris, Nemesis, Apate, Oneiroi, Keres, Ker
Community content is available under
CC-BY-SA
unless otherwise noted.