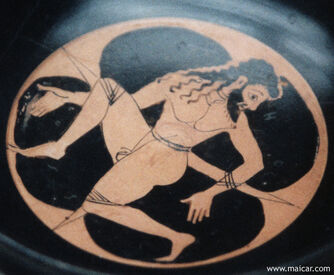 Ixion had originally been invited to Olympus, while there he made unwanted advances towards Hera.  Hera complained to Zeus who decided he needed proof.  Zeus took a cloud and molded it into a phantom in the form of Hera.  Later Ixion attempted to take advantage of the cloud that had been shaped into Hera and provided Zeus the proof.
Parents
Spouse & Lovers
Ch​ildren
Centaurus (Father of a race of Kentaurs)
Punishment
To punish Ixion, Zeus made him immortal then tied him to a flaming wheel and sent him into the sky to bee burning for all eternity
Aftermath
From the union of Ixion and the cloud nymph were
Gallery
Community content is available under
CC-BY-SA
unless otherwise noted.