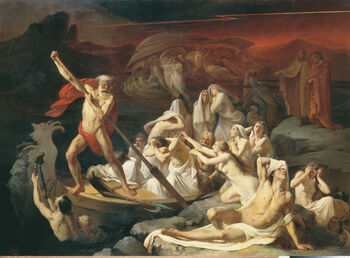 Kharon (Χαρων) was the ferryman of the dead. When someone would die, their relatives would place two coins on the eyes of the recently deceased to pay Kharon to ferry the dead across the Akheron River.
Parents
Siblings
Ancient Text
"Now when the dead have come to the place where each is led by his genius (daimon) [i.e. by Plato's equivalent of Hermes, Guide of the Dead], first they are judged and sentenced [i.e. by the Judges of the Dead], as they have lived well and piously, or not. And those who are found to have lived neither well nor ill, go to the Akheron and, embarking upon vessels provided for them [i.e. the equivalent of Kharon's skiff], arrive in them at the lake; there they dwell and are purified [i.e. by the equivalent of the Erinyes], and if they have done any wrong they are absolved by paying the penalty for their wrong doings, and for their good deeds they receive rewards, each according to his merits."
- Plato, Phaedo 112e (Greek philosopher C4th B.C.) :
Gallery
Community content is available under
CC-BY-SA
unless otherwise noted.