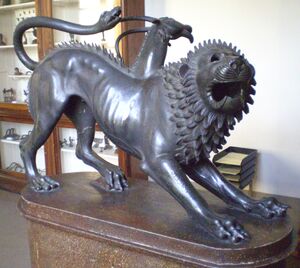 The Khimaira (Χιμαιρα) is a child of Typhon and Echidna. It was slain by Bellerophon.
Parents
Appearance
The Khimaira had a head of a lion, and in some depictions, the head of a goat in addition to the lion, the body of a goat, or a lion, and the tail of a living serpent. This beast is able to breathe fire as well as give a poisonous bite. 
Powers
The lion and goat heads are able to breathe fire. The serpent gives a poisonous bite to make it more dangerous.
Death
Khimaira was finally slain by the joint effort Bellerophon and Pegasus.
Gallery