Lips

God of

The southwest wind

Parents

Brothers
Lips (Gr: Λιψ) was the Greek deity of the southwest wind.
Parents
Astraios (Father) & Eos (Mother)
Siblings
Boreas
Euros
Notos
Zephyros
Apeliotes
Kaikias
Skeiron
Appearance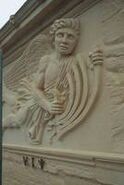 He was often portrayed as a young man holding a ship's stern-post, because the south-west wind blew straight into the harbor of Piraeus, preventing ships from sailing.
Trivia
His name is Africus in Latin
Community content is available under
CC-BY-SA
unless otherwise noted.