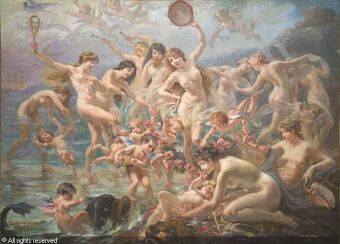 The Naiades were the nymphs of freshwater streams rivers and lakes, but were not limited to these water courses. Many Naiades could be found prancing around with Artemis, who chose 20 Naiades from Amnisus for companions. Naiads were the most prominent type of Water Nymph, they comprised not only the daughters of Okeanos and Tethys but daughters of river gods.  Because of this, unlike the Nephelai, Leimonides and Anthousai not all Naiads were Okeanides. Naiades had extremely long lifetimes, but they were not considered immortal, and were believed to have sat in on the Gods discussions on Olympus. There were 5 types of Naiades:
Gallery
Community content is available under
CC-BY-SA
unless otherwise noted.