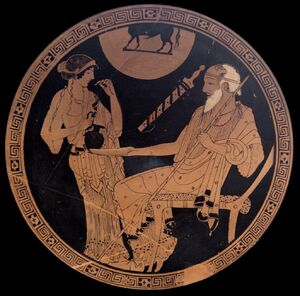 In Greek mythology, Nestor of Gerenia (Greek: Νέστωρ Γερήνιος) was the son of Neleus and Khlotris and the King of Pylos. He became king after Herakles killed Neleus and all of Nestor's siblings. His wife was either Neleus or Khlotris ; their children included Peisistratus, Thrasymedes, Pisidike, Polykaste, Perseus, Stratichus, Aretus, Ekhephron, and Antilochus.
Parents
Neleus and Khlotris
Spouse & Lovers
Eurydike or Anaxibia (wife)
Gallery
Community content is available under
CC-BY-SA
unless otherwise noted.